The Kosher Use of Uppercase: A Brief Case Study
Capitalization has a long and sordid history, but generally a well-known meaning: the use of a Capital Letter places Emphasis on a Word. The stylistic guidelines regarding when it's proper to use upper case and when not to differ widely from language to language and culture to culture.
HOWEVER, there is a right time and a wrong time to use capital letters.*
The Right Time to Use Capital Letters
Proper names and personifications – Ask yourself these questions:
• Is the word a name for someone you know or a person that theoretically exists (even though you haven't personally met them)?
• Is it a trademarked phrase or name for a company, brand, or entity?
• Does it refer to a movement that exists in one place only in history, such as the Age of Enlightenment or Postmodernism?
If not, don't capitalize it.
Titles (before, not after names) – I know it's tempting to associate capital letters with important people, but technically capital letters are used to emphasize something or someone specific. For example, if you are referring to the president, then it works like this:
Example (right): President and Commander in Chief Barack Obama came to visit us.
But, if you aren't referring to a specific president, but rather the fact that Obama is a president, you use capital letters like this:
Example (right): Barack Obama, president and commander in chief, came to visit us. (I didn't make the rules—blame the style guides.)
The beginning of sentences – Here is where I pose the thinking question: Why do you think capital letters are used to begin sentences? Bonus question: Why are sentences that fall after a colon capitalized?**
The pronoun I – Since we are referencing a specific person, ourselves, it probably makes sense that we capitalize it. One does wonder, however, what that says about us and our culture…
THE WRONG TIME TO USE CAPITAL LETTERS
Generalizations, such as specialties listed in a sentence or paragraph:
Example (wrong): The doctors at U of U Health Care specialize in Radiology, Neurosurgery, and Irritable Bowel Syndrome.
All of these specialties are general specialties (not that they aren't still special); they don't refer to a specific person, a trademarked company, or patent, so they should not be capitalized.
Titles after names:
Example (wrong): Joe Jones, MD, Dean of the Department of Punctuation, requested that students express greater respect for the use of uppercase.
While the Department of Punctuation, since it refers to a specific if fictional department, can be capitalized, the word dean, since it falls after the current dean's name, refers to the general position of dean, not the Dean Joe Jones himself.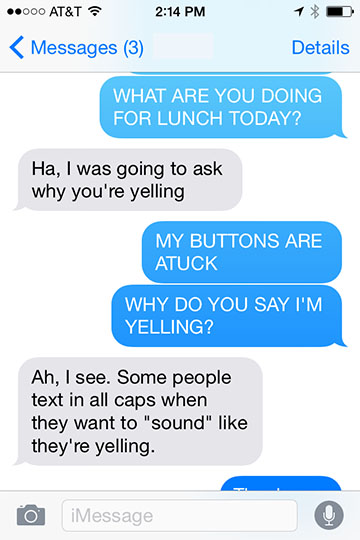 TEXT MESSAGING OR EMAILING IN ALL CAPS WITH YOUR CHILDREN/FRIENDS/CO-WORKERS, EVEN IF YOUR KEYS GET STUCK—THEY WILL THINK YOU ARE SHOUTING AT THEM.
This is a more recent use of capitalization stemming from our ever more frequent messaging with typed symbols to express ourselves as opposed to talking on the phone or in person where our body language can express tone or attitude.
Take a quick browse back over those paragraphs above. Which are easiest to read? Which are More Difficult to Make Out or Skim (a technique we frequently use in reading and not just on the web)?
Conclusion / CONCLUSION
The use of uppercase is a practice to be respected, particularly in formal or business writing. While legalese and, occasionally, bureaucratese can get away with almost everything, we regular peeps must abide by writing style guides to be respected as professionals in whatever sphere we adhere to.
Oh, and if you have a bit of time, read this highly entertaining article about the origins and use of caps lock: I TURNED CAPS LOCK ON FOR A WEEK AND EVERYONE HATED IT via @thisisfusion. It might change the way you type.
*I invite you to enjoy the dramatization—I think it adds to this piece. At least I hope you laugh.
**A: The use of a colon generally indicates an independent clause or sentence (the colon acts as the equivalent of an equals sign); independent sentences are almost always capitalized, except after a semi-colon. (Don't you love English with all these exceptions and rules and best practices?)
Previously published on Pulse, University of Utah Health Care; used with permission.