My department has recently been conducting interviews for new marketing specialists and even a content specialist. One of the smartest questions I think a candidate can ask is: What's a typical day like for you in this job?
A few years back, I actually recommended to different academic departments in our institution that they build out content around this question in relation to life (day-in-the-life) as a medical student, resident, fellow, nurse in training, and surprise! It does really well.
So, in lieu of my sometimes so-deep-we're-gasping-for-air posts, I'll just stick to something simple: Day in the life!
Background: I'm coming up on year five of being resident web content manager at University of Utah Health. The journey has taken me through many sidewinders and close to some fascinating dead drops, but through it to date, I've kept these skills sharp and picked up some new ones:
writing,
editing,
data analysis,
SEO,
managerial work,
reporting,
client management,
project management,
networking,
reading, and
strategic thinking.
At this point in time, my team manages roughly 30K webpages across five (give or take) subdomains. At any time we are each (there are three of us and an SEO/digital analyst) managing 15 clients personally in a particular week, but that client list rotates.
The work we do is assist in structuring content governance (as we can't manage all the pages personally), information architecture, new website set ups, and then conduct more in-depth content work for department priorities (that hopefully align with business goals), such as writing, auditing, and optimizing various webpages/content types.
First Things First: Pacify the Inbox (9–9:30 am)
Every morning when I get in and turn on my computer to check my email inbox, I make sure my water bottle is filled up. I also usually say hi to anyone else on the floor or around me. I may not have time or be in the mindset to start a conversation, but individually acknowledging co-workers by name as I see them throughout the day is really important to me.
As I review any emails that came in after I left the previous day, I use this as a way to orient myself to the day's work load. I also double check the day's calendar. The best days are mornings with just a few newsletters and few to no client responses. That means I can begin work on something substantive.
Then there are the days that I have meetings right away. I try to keep meetings first thing to a minimum—and our culture begets a lottttttt of meetings—but I really need those first few organizational minutes turning on computer and reviewing my calendar for the day.
I'll answer any truly important emails or emails with quick-Q answers. Now I'll take time to review my task list from yesterday. These are items to follow up on from that I didn't answer yet or small maintenance Qs that I want to follow up on.
If I have a high priority project, however, I'll start work on that in the morning, as usually I'm a bit sharper mentally at this time.
High priority projects could include writing or editing something, QA'ing a website, continuing a content audit, keyword research, work in the content management system updating CTA (call to action) links that aren't working or have changed for some reason. Anything I have scheduled to complete in the sprint* or for a meeting.
Mid-Morning
Depending on the day, I'll either be in meetings or I might be taking care of any of the following five levels of work types:
Basic maintenance: Updates to contact info, updates to provider/doc lists on websites, vanity url requests, contact info requests (who can help me do XYZ?), and the like. We are lucky to have a person who manages the basic maintenance queue who can assist with these types of requests; though, my team does some of them as well. Rule of thumb: Requests that take 10 minutes or fewer.
Content maintenance: This usually involves a request to add a content page on a site or add a significant content chunk somewhere. There can also be things we have to untangle as to who to contact to get an issue addressed. These are middle level maintenance tasks that take a little longer than 30 minutes to do but fewer than three hours.
New webpage requests: These requests can come from departments that need a lab site set up or a folder structure done. Typically the client can add the content themselves, but it takes some time to set up the bones of the site and check that they have training. There can also be requests for page setups for new services, clinics, locations, or the like. These are hard to measure time-wise. I actually prefer a complexity level measure. The more stakeholders you have to work with at any given time, the more complex I consider the task. Sometimes they cannot be completed during a sprint, in which case I schedule them in an upcoming sprint.
Feature requests or project requests. These are genuine I-need-a-site-rework, I-need-a-new-feature, I-need-a-content-module-created. These need to be broken down into our sprint time periods as they often involve meeting personally with the client or significant research or writing time and effort. For example, we have a new health center opening, which entailed a roughly 25-webpage build with about 35 stakeholders involved. Sometimes the client will want what I call a feature, which has to have a developer or UX (user experience) specialist work on. These types of tasks also have to be scheduled once we have gathered the basic client objectives and time constraints.
Priority projects or department projects. There are priority services identified by our institution that our marketing department supports. These projects are usually driven by the fiscal year. Typically they involve a project plan (including an associated content strategy) and scheduling throughout each quarter. These involve lots of writing, editing, client time, SEO optimization, and support work.
Meetings may involve various clients or stakeholders. Often if I have to travel to campus to meet with a client (our office is located in an administrative area further from campus, which is, however, better for lunch dine-ins or drive-throughs!), I'll usually have to schedule two to three weeks out as travel time adds 40 minutes on to the meeting time and requires planning.
There are also interdisciplinary team meetings for priority and department projects as well as phone meetings/check ins for ongoing client projects. Then there are administrative meetings, like sprint planning meetings or project check-ins where we may be working with the devs, UX, or UI.
Lunch Time! Or Mid-Day Networking (11:30 am–1 pm)
Lunch is usually on the fly. I have long given up on packing a lunch as I never remember it. So, sometimes I'll order in (I claim credit here for identifying a particular sandwich delivery service-to-my-desk option that the entire building uses). If I go out, it will usually be for a networking lunch with colleagues.
If I have a less intensive week with projects or deadlines, I use lunch as an excuse to keep up with friends in the department or do genuine networking. This also helps me remember to take some time for a break as even if I'm dug in to a project; my productivity is better if I take a breather.
It's the same after lunch, except I stop answering emails. Anything that arrives in the email inbox after two or three gets pushed into the to-do task list that I answer on the following day. This helps me finish a project that needs doing or remain focused on a task. Around three I usually hit a slump period, so I may walk around (in an ideal world) or stop to chat with co-workers.
I also may *not-ashamed-to-admit* have hit up the caffeine machine for some Dewy goodness. (I do have a balance though – more water than other beverages goes in throughout the day.)
Towards the end of the day I usually get a second wind, but I may not be as clear headed, so I might work on optimizing a piece, keyword research, editing, reporting, but generally projects that are less cognitively demanding.
The Dismount (5:30-6 pm)
When I'm ready to wrap up, I'll check what's on the calendar for the next day. I rarely, rarely check or answer emails at home, so unless someone texts me, I'm off for rest and relaxation (AKA: cat feeding, grooming, and entertaining…).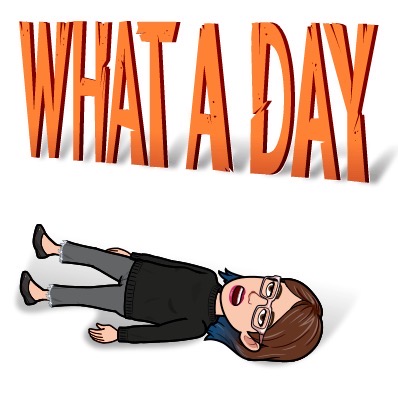 And that's a wrap! I really value the physical separation of work and home life. It helps me keep burn out at bay. Obviously there is no way to completely keep the two separate, but some boundaries always help in the pursuit of happiness.
And, as they say in Zombieland**, I try to take time to enjoy the little things.
*We use sprints in this case to denote bi-monthly cadences rather than in the true Scrum sense. The reason for this is to give us reporting periods. As a content practitioner, I find Kanban to be a bit more our style, but there are particular periods, like when working with developers, that sprints fit a work load.
I also find the terminology and concept of sprints a great way to communicate deadlines and work load to clients. If I indicate to them that we have a workload queue and give them some sense of measure to it, they are far likelier to have balanced expectations on project delivery.
**Random, I know, but I recently saw the reboot, Zombieland: Double Tap, and nearly cried I laughed so hard. Little things…