2016
Health Feed Blog, University of Utah Health Care
2015
Automating Content Reuse: One Marketing Team's Story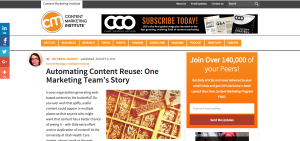 Published August 6, 2015, on Content Marketing Institute's blog, this is a case study of work we've done at University of Utah Health Care to structure customized integration (or a dynamic feed) of blog and podcast episodes on to corresponding pages through our clinical websites.
Health Feed Blog, University of Utah Health Care
2014
2013
Other Guest Posts
2012
Published on FamousBloggers.net, October 12, 2011, this post on resume infographics explores the recent trend in data visualization to include resumes.
Published March 6, 2012 on FamousBloggers.com; I pitched this post to the editor of Famous Bloggers when the book was still hot (October 2011); however, I wasn't able to actually read the book in its entirety for some time (it is quiiiiiiite long). Still, I believe that publishing this review is important because some people have probably picked up this book and then put it down again (like me) when the end chapters are really the most significant. This is my favorite post I have published to date.
2011
Protecting Your Business's Online Reputation
Published on NewBizBlogger.com October 19, 2011, this post explores the challenges of conducting business in a world of two-way communication. Business public relations are becoming focused around customers and community now rather than on the traditional model of one way communication from public relations representative to journalists.
Published November 10, 2011, for SocialMediaToday.com, this piece explores social media platforms that could aid content strategists in building their online communities. The piece is structured around characterizations of and the different benefits of each platform.